where did all the decent/sane people go??!
when one is bored and left with nothing to do one does what? go online... update blogs/lj/whatever... chat... browse... surf... bleah...
so i do my usual thing when i go online... my ym and msn are on... checked on my lj and blog for replies and stuff... and i parked my nick in some random ym anime chatroom...
i was looking for gothic lolita stuff here in the philippines... results were nothing more than useless so i thought of going to another chatroom...
i ended up in one of those metro manila ym chatroom thingies... i got hits from spam bots... and then i got im-ed by 3 perverted halfwits who didnt not seem to speak decent english and believed the keyboard can only produce CAPITAL LETTERS...
... i left the room after 5 minutes... i didnt even bother asking if anyone new about gothic lolita... it was incredibly annoying...
*huff* so now... i am, once again, left with nothing to do... i finished reading the book i bought from booksale for Php 120.00
it's a pretty decent book... it's entitled sweet miss honeywell's revenge... a ghost story written by kathryn reiss... and i guess the author intended the book to be read by young adults... the back of the book says... for ages 10 and up... -.-;;
meh...
i got the book last year... but i only started reading it last night and finished it this morning... it's not that long... and it's not that complicated... but it's not a total bore either... the plot is solid and good enough to make me feel a little excited and anxious about what the next series of events would be...
the only drawback that i can see is that... it's predictable... atleast... it was to me... i guess books from the "young adults" section are meant to be that way...
fuu...
if any of you guys want to borrow the book just leave a message on the chatterbox or drop me a call...
i haven't used
khan
's gift yet... it's a Php 500 national bookstore gift check by the way... nyuuu... i wonder what i'll get with it and when i could possibly go to a national bookstore branch...
*huff*
meh...
the next anime convention is drawing near... feb 18-20, 2005 are the tentative, but most likely, dates... and i still dont have clothes for the bloody event... i tossed the idea of cosplaying out of the window... ten-chan would skin me alive if i went as alexiel in this costume: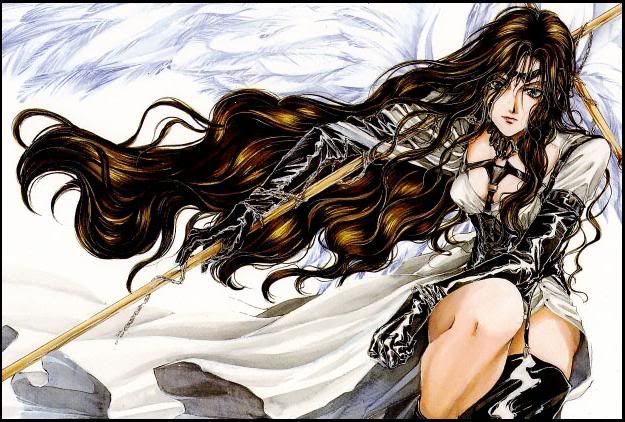 and i dont think he would appreciate me going as some male anime character either...
*sigh* ...i should get a job since my mom wouldnt support me in anything i show interest in doing... she's just concerned about my sister and to make herself look good in the eyes of my dad... thought i think it's a little too late for the latter...
reality bites... and it bites real hard...
i wish i could be run over by some car... but if i come out alive that would mean more financial shit for my dad to deal with and more money my mom could shower on my sister...
meh...
man... i really
do
harbor a lot of hate... maybe i should go see a doctor... but wait... i can't! mom thinks it's not needed... she doesn't think i'm insane... lol... she's a psychology graduate you see... so i guess she can see that i am not, in the very least, mentally impaired... right... damn it...
i think i bitched long enough for today... i'll save the rest for tomorrow...