ten-chan scolded me awhile ago... for a number of things...
for not taking his advice to take a day off... my cold got worse... i'm now sporting a much much more sore throat and a hurting face and a throbbing head... @.@
and for not having my dinner at that time... it was 7:30-ish when he called...
lastly, for posting stuff that are generally about hate, pain, anger, depression and satanism "bullshit"...
i said sorry... and there's no point in arguing when you know that the other party is right... so after i am through with this post... i'm deleting the previous one... he showed total dislike towards the stuff i got and posted from www.morbidangel.com...
i'm terribly sorry to ten-chan... and he's right... my life is not just about the negatives... i get some streaks of happiness too every once in awhile... and that's when i'm with him... or when the house is in total silence... or when i get praised by my professors with regards to my work... or when i dont get noticed when i want to remain invisible... and other all those small things that seem irrelevant but highly pleasant... like that prize ten-chan won for me... or all those times he drove me back here... or for all those smiley faces he im-ed me...
i am not totally pathetic, i get it now ten-chan... :) thanks for the reality check... and i'm really really really sorry about getting myself even more sick... @.@
meet my first ever neopet MeeChan!: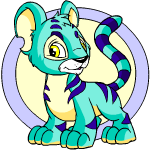 ps: i wuv ya ten-chan! :P